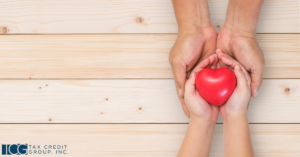 As 2019 draws to a close, many companies are looking for ways to give back to their communities and maybe get a little tax advantage in return. But there are some things you should consider before you decide how much you're going to donate and who you're donating to.
Choosing the right charity
The first thing you want to focus on is choosing the right charity. You want to make sure the company you're donating to is a nonprofit. Usually, nonprofits file under tax code 501(c)(3), which is the internal revenue code that allows for nonprofit tax exemption. These companies indicate on their website their 501(c)(3) status, so look around for it. If you can't find it, the IRS has a database search that you can use to determine if the company you want to donate to files as a 501(c)(3).
Just because it's a nonprofit, it does not mean that all the money you donate goes to the cause you're choosing to support. You want to make sure that a large portion of the money you donate goes to the people the nonprofit is trying to help and not to administrative costs. Sites like Charity Navigator and the Better Business Bureau's Wise Giving Alliance will help you see what percentage of every dollar a charity uses towards its cause.
After that, choose a charity that aligns with the beliefs of your company and your employees.
It's a tax deduction, not a tax credit
Remember that when you donate to a charity, it's considered a tax deduction not a tax credit. We have a whole article on the difference between a tax deduction and a tax credit here, but the basic idea is that a tax credit is a dollar for dollar write off on your taxes, while how much you receive as a tax deduction will vary based on your tax bracket.
It's probably worth less than you think it is
If you're looking to donate goods, remember you will never be able to deduct what you initially paid for the item. The IRS will only allow you to deduct what it calls Fair Market Value, in other words, what the item is worth after depreciation or use. The IRS website has more details on Fair Market Value here.
The other thing you want to consider is you need to have some proof that the item is worth what you're writing off. For example, if you donate a car, then you need to use something like the Kelly Blue Book to prove that the car you donated is worth the amount you're deducting. If you're donating something else, you may need an independent appraisal before you choose a value to deduct.
How much should you give?
Business News Daily tackled this issue a few months ago and here are two things you should think about before you decide how much to donate:
"The tax benefit you receive will be based on how much you give and your business's revenue."
"Don't donate an amount that will sink your business. Be smart as well as charitable."
As we stated earlier, a tax deduction is much different than a tax credit. You will not receive a dollar for dollar break on your taxes, so you must understand that any donation must be money that you can afford to give to a charity without any promise of a return.
Talk to your tax adviser
Whether you donate $1 or $1,000, be sure you talk to your Certified Public Accountant or another tax specialist before you donate. The 2017 Tax Cuts and Jobs Act made the tax code more difficult to navigate in the area of charitable giving and you may not receive the level of deductions you anticipate unless you talk to a professional first.