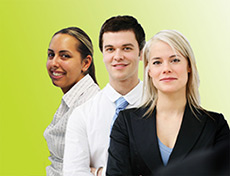 Progressive companies seem to have cracked the code of hiring teenage help and leveraging those employees as strategic assets. More specifically 16-17 year olds for seasonal help.
It's true that there is a certain unflattering stigma associated with teenage employees, but it doesn't mean that you should overlook this segment of the workforce.  In fact, with an intentional plan you can sift through this unique talent pool and hire the best and take advantage of the benefits they can offer your company.
There are more than a few examples of teenagers behaving badly in their workplace scattered across the internet casting a shadow upon both their employer and fellow teen worker.  This shouldn't be a deterrent but rather an incentive to perfect your hiring process.
So why should you consider hiring more teens?
For starters, they have lower wage requirements than longer tenured employees resulting in lower overall payroll. Not to mention they seldom work enough hours to earn OT and often don't receive the benefits of full time workers.
They can help expand your clientele to a segment of the population you may not have previously reached. Teenagers have dozens of retail options to visit after school, but they gravitate to those where their friends work.
You can begin relationships with quality individuals that become lifetime employees.  The landslide majority of Chick-fil-A operators started working for the company during summers in high school.
The energy they have is both inspiring and infectious. Teenagers can often be labeled as lazy, but more often than not, it's just boredom.  Given a task and empowered to achieve it, you'll be surprised at how creative and efficient they can be at problem solving.
As a final bonus, the Federal Government offers you a WOTC tax credit for each 16-17 year old hired during the summer.  This could reduce your tax liability by up to $2,400 per teen hired.
These are just a few reasons to include teenagers in your candidate pool; especially for retail, seasonal help.
Progressive companies, like yours, have realized solid return on investment by carefully hiring teenagers. Teens help businesses diversify their workforce, attract young customers and increase your profitability. That means more bottom line, thanks to reduced payroll costs, sales potential and tax incentives.
If you'd like to learn more about how we can help your business improve your hiring and take advantage of the Work Opportunity Tax Credit (WOTC) program click here and we'll be in touch shortly.