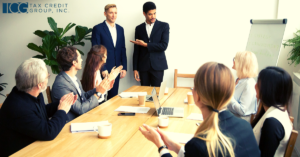 With the national unemployment rate at a low, the employee pool may look like it is getting sparse. However, that may be because you're not looking in the right employee pool.
2020 should be the year you consider hiring ex-felons.
For many employers, it's tough to think about trusting an ex-felon as someone who will help your business succeed, but the federal government is doing everything it can to help employers see that ex-felons can be an asset instead of a hindrance.
The Work Opportunity Tax Credit (WOTC)
The government has created the WOTC for companies willing to hire individuals with employment barriers, such as ex-felons. If your business employs an ex-felon you can qualify for the WOTC. We wrote a whole blog post about WOTC here.
The cool thing about a tax credit is that you receive a dollar for dollar match on your taxes up to a certain amount. That means if you pay that employee $1,200 in 2020, you should be allowed to deduct that $1,200 from your taxes.
The Federal Bonding Program
To make employers feel safer about hiring ex-felons, the federal government has created a Federal Bonding Program. The program is designed to protect the employer against loss if an employee that is an ex-felon commits a fraudulent or dishonest act.
The bonds are free and are part of an incentive to hire ex-felons. There's a $5,000 limit per employee with a $0 deductible. The bond covers the employee's first six months of employment with your company.
For more details, you can visit the Bonds 4 Jobs website.
City and State Benefits
In addition to the national benefits being offered for hiring ex-felons, some cities and states are also offering incentives to businesses that hire people coming out of incarceration. The City of Philadelphia, for example, offers a cash incentive to any business that hires someone coming out of prison, provided the company meets the eligibility requirements.
Be sure to look into what your city and state offer businesses that hire ex-felons. You could see more rewards than just the federal ones.
States are Starting to Recognize Unfairness in Occupational Licensing
You may think that because your employees need a special license to do their work, ex-felons are out of the question. Until recently, most states have immediately rejected license applications for ex-felons. That's changing.
More and more states are starting to realize that licenses to ex-felons should and can be handed out on a case by case basis. Check your state to see if they offer waivers for occupational licenses. The one thing holding you back from hiring an ex-felon may not be an issue at all.
Major Companies See the Benefit
More and more major corporations are seeing the benefit of considering ex-felons in hiring practices. Many companies have removed the question about an applicant's criminal past from their applications. More still have promised to give a potential employee a fair chance before asking about criminal history.
According to the website, Jail to Job, major corporations like Walmart, Google, Coca-Cola, Best Buy, Starbucks, Target, and Under Armour have made the Fair Chance Pledge, a promise to hold off on criminal history questions until later in the hiring process.
It is possible that hiring an ex-felon is not an avenue that you want to pursue for your company, but it's also possible you may find that some of the best employees you hire in 2020 will be ex-felons.
Disclaimer: The advice offered in this blog post is a generalization and may or may not work in your specific situation. Most specifically, the WOTC depends on the company, the employees and other factors. If you think you qualify for the WOTC or other tax credits, please contact Tax Credit Group so we can cater our advice to your situation.